Community Board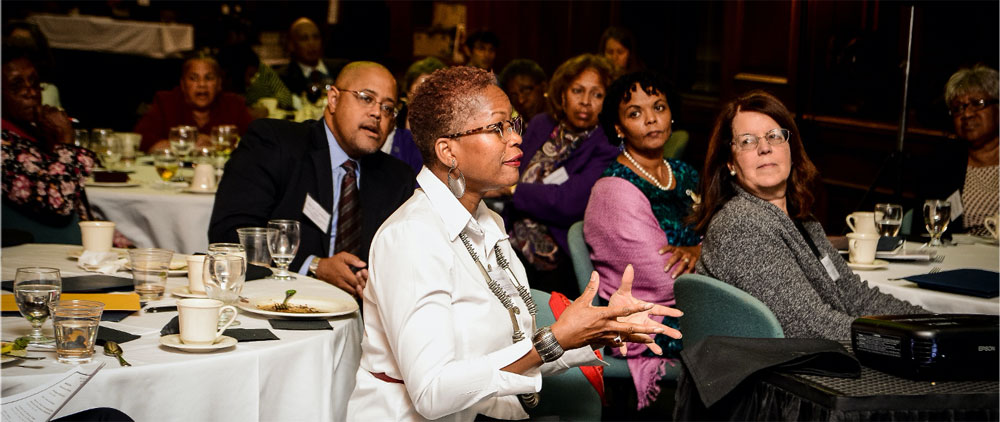 The Johns Hopkins Alzheimer's Disease Research Center (ADRC) recognizes the need to maintain an effective and mutually satisfying partnership with the community its serves. To that end, a Memory and Aging Community Advisory Board has been formed. It is made up of local community leaders with an interest in dementia, including representatives of the minority community (i.e., pastoral leaders, heads of community organizations, health officials from State/City/County Departments, political leaders, representatives of the Alzheimer's Association, and families of patients who have been touched by Alzheimer's Disease).
For more information about the Community Board, visit the Board's website or contact Dr. Corinne Pettigrew at 410-614-0363 or e-mail cpettigrew@jhmi.edu.
MACAB Mission Statement
The Memory and Aging Community Advisory Board (MACAB) is a group of dedicated people whose overall concern is the physical, mental, and social well-being of the senior community of Greater Baltimore. The MACAB was formed in 2004 and is comprised of community leaders, health professionals, and families who have been touched by dementia including Alzheimer's disease. This group works with the Johns Hopkins Alzheimer's Disease Research Center (JHADRC) and the Johns Hopkins Memory and Alzheimer Treatment Center (MATC) and various other groups to help increase community access to healthcare, knowledge, and research opportunities related to Alzheimer's disease, memory loss, and senior health.

The mission of the MACAB is to focus on four of the most critical needs in addressing the impact of dementia including Alzheimer's disease and related disorders on Greater Baltimore residents and caregivers. These needs include:

– Education – Increase access of AD education and care interventions in the Greater Baltimore community
– Recruitment – Enhance the integrity of Alzheimer's research through recruitment of diverse ethnic and racial groups
– Communication about research – Provide a forum for community concerns about research
– Revisions in procedures – Improve research so that it is consistent with community goals and needs
MACAB Committees
Three committees work to facilitate the goals of the MACAB

Board Development Committee: The Board Development Committee will work with the Executive Committee to set priorities for membership recruitment, plan new member orientation, evaluate member satisfaction and recommend updates to bylaws.
Examples of potential activities include:
Identifying individuals who are interested in joining MACAB, conducting phone or in-person interviews with potential members, assisting in orientation of new members, developing surveys to evaluate member satisfaction and contacting members that have missed several meetings.

Community Education Committee: The Community Education Committee will work with the Executive Committee to identify community events the MACAB might support, help recruit volunteers for events, and participate in community events.
Examples of potential activities include:
Arranging for a presentation on Memory Loss at a senior center, contacting a church to determine their interest in hosting an event on Memory Loss, volunteering 2-4 hours of time to help manage the MACAB table at a health fair.

Research Committee: The Research Committee will work with the Executive Committee to provide researchers with guidance on the development of culturally relevant recruitment and outreach activities.
Examples of potential activities include:
Reviewing a flyer or brochure to provide input on whether the study description is clear and easy to understand, reviewing slides prepared for a presentation to be sure they are easy to understand and culturally sensitive, participating on a panel at a community event where Memory Loss is discussed.

Media and Communications Committee: The Media and Communications Committee works with the Executive Committee to update, maintain, and develop content for the MACAB website and social media pages.
Examples of potential activities include:
Making regular updates to the MACAB website, providing content for social media pages (such as Facebook).

MACAB Membership
The Executive Officers of the community board include: Jackie Seth (Chair), Mica Saunders (Vice-Chair), Ernestine Jones-Jolivet (Board Development Chair), and Ashley Scott (Secretary).

Members of the board from the Greater Maryland Community include: Thomasine Baskerville, Crystal Day-Black, Crystal Evans, Teriko Epps, Maria Gray-Bowie, Peggy Jackson, Carolyn Jenkins, Jose Jimenez (Media and Communications Committee Chair), Elouise Mayne, Randy Mortis, Rodney Morton, Deborah Peaks-Coleman, Natasha Ramberg, Valerie Richardson, Mary Ellen Smackum, Anna Smolensky (Community Education Committee Chair), and Marlyn Taylor. ADRC faculty and staff associated with the Board include: Marilyn Albert, Rostislav Brichko, Cassandra Hendrie, Andrea Nelson, and Corinne Pettigrew (Research Committee Chair).
MACAB Membership Commitment
The Johns Hopkins Memory Center will offer Board members the following benefits and resources:
1. Staff support for local community events aimed at senior with and without memory disorders.
2. Promotion of advocacy groups and community leaders within the Johns Hopkins University network.
3. Referral to Hopkins care and research opportunities.
4. Opportunities to attend educational seminars and lectures.

Board members will participate in the following activities:
1. Attend 3-4 daytime meetings per year (quarterly) at Johns Hopkins Mount Washington Campus.
2. Serve as ambassadors that distribute information regarding the memory disorders within the community.
3. Provide feedback on the research to investigators through participation in panel discussions, written recommendations, or review of study brochures.
4. Help the MACAB form relationships with community leaders and advocacy groups.

Volunteer service opportunities offered by the Memory Center include:
1. Represent the MACAB at 1-2 local events.
2. Arrange or conduct an educational presentation on memory loss.
3. Participate in panel discussions regarding memory loss, mental health, and research
4. Participate on one a committee of the MACAB concerning either education, research or membership.

MACAB Calendar of Events
– February 14, 2023 – 9:00am-10:30am
MACAB Meeting

– April 11, 2023 – 9:00am-10:30am
MACAB Meeting

– June 3, 2023 – 9:00am-11:00am
Holistic Health Seminar on Memory Loss, virtual via Zoom

– July 11, 2023 – 9:00am-10:30am
MACAB Meeting