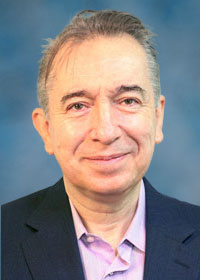 Vassilis Koliatsos, M.D.
Associated Investigator
E-mail: koliat@jhmi.edu
Dr. Koliatsos' primary interest is mechanisms of traumatic and degenerative brain injury and repair.
He has recently turned his attention to cellular therapies for degenerative and traumatic diseases of the nervous system, i.e. applications involving embryonic and neural stem cells.
Publications
Ziogas NK, Koliatsos VE. Primary traumatic axonopathy in mice subjected to impact acceleration: A reappraisal of pathology and mechanisms with high-resolution anatomical methods. J Neurosci. 2018;38: 4031-4047.
Xu L, Schaefer M, Linville R, Aggarwal A, Mbuguiro W, Wester B, Koliatsos V. Neuroinflammation in primary blast neurotrauma: time course and prevention by torso shielding. Exp Neurol 2016; 277: 268-274.
Mahairaki V, Ryu J, Peters A, Chang Q, Li Y, Park TS, Burridge PW, Talbot CC Jr, Asnaghi L, Martin LJ, Zambidis ET, Koliatsos VE. Induced pluripotent stem cells from familial Alzheimer's disease patients differentiate into mature neurons with amyloidogenic properties. Stem Cells Dev 2014; 23: 2996-3010.
Koliatsos V, Cernak I, Xu L, Song Y, Savonenko A, Crain B, Eberhart C, Frangakis C, Melnikova T, Kim H, Lee D. A mouse model of blast injury to brain: initial pathological, neuropathological, and behavioral characterization. J Neuropathol Exp Neurol 2011; 70: 399-416.