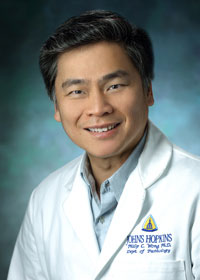 Philip Wong, Ph.D.
ADRC Associate Director
E-mail: wong@jhmi.edu
Philip Wong is Professor of Pathology at Johns Hopkins University School of Medicine. His research program is focused on understanding the molecular mechanisms of neurodegenerative disorders, such as Alzheimer's Disease and ALS. He uses transgenic animal models to study disease mechanisms and to design and test therapeutic strategies.
Publications
Islam S, Sun Y, Gao Y, Nakamura T, Noorani A, Li T, Wong PC, Kimura N, Matsubara E, Kasuga K, Ikeuchi T, Tomita T, Zou K, Michikawa M. Presenilin is essential for ApoE secretion, a novel role of presenilin involved in Alzheimer's disease pathogenesis. J Neursci, 2022; 42: 1574-1586
Chen L, Wei Z, Chan KW, Li Y, Suchal K, Bi S, Huang J, Xu X, Wong PC, Lu H, van Zijl PC, Li T. D-glucose uptake and clearance in the tauopathy Alzheimer's disease mouse brain detected by on-resonance variable delay multiple pulse MRI. J Cereb Blood Flow Metab. 2021; 41:1013-1025.
Jeong Y, Ling J, Lin S, Donde A, Braunstein K, Majounie E, Traynor B, LaClair K, Lloyd T, Wong PC. TDP-43 cryptic exons are highly variable among cell types. Mol Neurodegener 2017; 12: 13.
Sun M, Bell W, LaClair K, Ling J, Han H, Kageyama Y, Pletnikova O, Troncoso J, Wong PC, Chen LL. Cryptic exon incorporation occurs in Alzheimer's brain lacking TDP-43 inclusion but exhibiting nuclear clearance of TDP-43. Acta Neuropathol 2017; 133: 923-931.
LaClair K, Donde A, Ling J, Jeong Y,Chhabra R, Martin L, Wong PC. Depletion of TDP-43 decreases fibril and plaque Beta amyloid and exacerbates neurodegeneration in an Alzheimer's mouse model. Acta Neuropathol 2016; 132: 859-873.
Appointments
Primary Appointment in Pathology