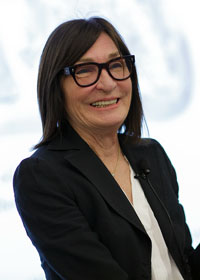 Michela Gallagher, Ph.D.
Associated Investigator
E-mail: michela@jhu.edu
Dr. Gallagher is a Krieger-Eisenhower Professor of Psychological and Brain Science.
Her research program is in the area of Behavioral and Systems Neuroscience. This work uses a wide range of approaches that include anatomical methods, methods for recording neurons to determine their encoding properties while animals perform complex tasks, and cellular/molecular methods to study mechanisms of signaling and plasticity.
Publications
Lee H, Wang Z, Zeger SL, Gallagher M, Knierim JJ. Loss of functional heterogeneity along he CA3 transverse axis in aging. J Neurosci. 2021;41: 663-673.
Tran T, Bridi M, Koh MT, Gallagher M, Kirkwood A. Reduced cognitive performance in aged rats correlates with increased excitation/inhibition ratio in the dentate gyrus in response to lateral entorhinal cortex input. Neurobiol Aging. 2019; 82:120-127.
Tran T, Gallagher M, Kirkwood A. Enhanced postsynaptic inhibitory strength in hippocampal principal cells in high-performing aged rats. Neurobiol Aging 2018; 70: 92-101
Haberman R, Koh M, Gallagher M. Heightened cortical excitability in aged rodents with memory impairment. Neurobiol Aging 2017; 54: 144-151.
Appointments
Primary appointment in Psychological and Brain Science.