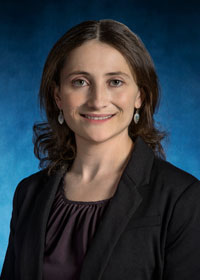 Meaghan Morris, M.D., Ph.D.
Neuropathology Core: Co-Investigator
E-mail: momalle2@jhmi.edu
Publications
Morris M, Moghekar A, Guo H, Pletnikova O, Redding-Ochoa J, Albert M, Resnick SM, Chen L. Ubiquitin-positive astrogliopathy clinically mimicking Parkinson's Disease. Acta Neuropathol Commun. 2022;10:164.
Fischer NM, Hinkle JT, Perepezko K, Bakker CC, Morris M, Broen MPG, Butala A, Dawson TM, Leentjens AFG, Mari Z, Marvel CL, Mills KA, Rosenthal LS, Shepard MD, Pantelyat A, Bakker A, Pletnikova O, Troncoso JC, Wang J, Pontone GM. Brainstem pathologies correlate with depression and psychosis in Parkinson's disease. Am J Geriatr Psychiat, 2021; 29: 958-968.