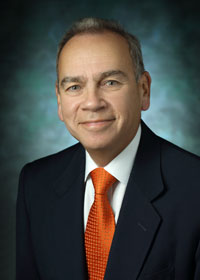 Juan Troncoso, M.D.
Neuropathology Core Leader
E-mail: troncoso@jhmi.edu
Dr. Troncoso is Professor of Pathology and Director of the Brain Resource Center at Johns Hopkins University School of Medicine. His research interests focus on the neuropathology of normal aging and the pathology, pathogenesis and therapy of neurodegenerative disorders. His research encompasses clinical-pathological correlations, morphological studies using unbiased stereology, and investigations of the pathogenesis of neurodegenerative disorders in relevant genetically-engineered mouse models and in vitro systems.
Publications
Martinez P, Patel H, You Y, Jury N, Perkins A, Lee-Gosselin A, Taylor X, You Y, Viana Di Prisco G, Huang X, Dutta S, Wijeratne AB, Redding-Ochoa J, Shahid SS, Codocedo JF, Min S, Landreth GE, Mosley AL, Wu YC, McKinzie DL, Rochet JC, Zhang J, Atwood BK, Troncoso J, Lasagna-Reeves CA. Bassoon contributes to tau-seed propagation and neurotoxicity. Nat Neurosci. 2022; 25:1597-1607.
Park JS, Kam TI, Lee S, Park H, Oh Y, Kwon SH, Song JJ, Kim D, Kim H, Jhaldiyal A, Na DH, Lee KC, Park EJ, Pomper MG, Pletnikova O, Troncoso JC, Ko HS, Dawson VL, Dawson TM, Lee S. Blocking microglial activation of reactive astrocytes is neuroprotective in models of Alzheimer's disease. Acta Neuropathol Commun. 2021;9:78.
Kageyama Y, Saito A, Pletnikova O, Rudow G, Irie Y, An Y, Murakami K, Irie K, Resnick S, Fowler D, Martin L, Troncoso J. Amyloid beta toxic conformer has dynamic localization in the human inferior parietal cortex in absence of amyloid plaques. Sci Rep 2018; 8: 16895.
Pletnikova O, Kageyama Y, Rudow GL, LaClair K, Albert M, Crain B, Tian J, Fowler D, Troncoso J. The spectrum of preclinical Alzheimer's pathology and its modulation by ApoE genotype. Neurobiol Aging 2018; 71: 72-80.
Appointments
Primary Appointment in Pathology
Secondary Appointment in Neurology