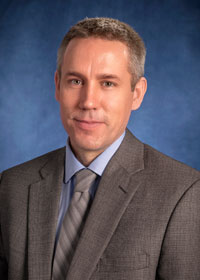 David Nauen, M.D., Ph.D.
Neuropathology Core: Co-Investigator
E-mail: dwnauen@jhmi.edu
Publications
Nauen DW, Troncoso JC. Amyloid beta is present in human lymph nodes and greatly enriched in cervical regions. Alzheimers Dement. 2022;18:205-210.
Azhir A, Merino L, Nauen DW. Interactive web-based identification and visualization of transcript shared sequences. Genomics 2019; 111:860-862.
Qian X, Nguyen H, Song M, Hadiono C, Ogden SC, Hammack C, Yao B, Hamersky G, Jacob F, Zhong C, Yoon K, Jeang W, Lin L, Li Y, Thakor J, Berg D, Zhang C, Kang E, Chickering M, Nauen D, Ho CY, Wen Z, Christian K, Shi PY, Maher B, Wu H, Jin P, Tang H, Song H, Ming G. Brain-region-specific organoids using mini-bioreactors for modeling ZIKV exposure. Cell 2016; 165: 1238-1254.
Aggarwal M, Nauen D, Troncoso J, Mori S. Probing region-specific microstructure of human cortical areas using high angular and spatial resolution diffusion MRI. Neuroimage 2015; 105: 198-207.