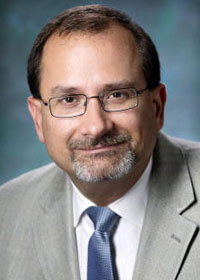 Constantine G. Lyketsos, M.D., M.H.S.
ADRC Associate Director
Clinical Core Leader
E-mail: kostas@jhmi.edu
Dr. Lyketsos is the Elizabeth Plank Althouse Professor for Alzheimer's Research. He is the Chair of Psychiatry at the Johns Hopkins Bayview Medical Center.
Dr. Lyketsos' research interests include the epidemiology and treatment of neuropsychiatric disorders in dementia, and the etiology and effect of neuropsychiatric symptoms occurring across the spectrum of Alzheimer's disease and related dementias.
Publications
Lyketsos CG, Roberts S, Swift E, Quina A, Moon G, Kremer J, Tariot P, Fillit H, Bovenkamp P, Zandi P, Haaga J. Standardizing electronic health record data on AD/ADRD to accelerate health equity in prevention, detection and treatment. J Preven Alzheimers Dis, 2022; 9: 556-560.
Wise E, Rosenberg P, Lykestsos C, Leoutsakos J. Time course of neuropsychiatric symptoms and cognitive diagnosis in National Alzheimer's Coordinating Centers volunteers. Alzheimers Dement, 2019; 11: 333-339.
Ismail Z, Aquiera-Ortiz L, Brodaty H, Cieslak A, Cummings J, Fischer C, Gauthier S, Geda Y, Hermann N, Kanji J, Lanctot K, Miller D, Mortby M, Onyike C, Rosenberg P, Smith E, Smith G, Sultzer D, Lyketsos C. The Mild Behavioral Impairment Checklist (MBI-C): A rating scale for neuropsychiatric symptoms in pre-dementia populations. J Alzheimers Dis 2017; 56: 929-938.
Schneider L, Frangakis C, Drye L, Devanand D, Marano C, Mintzer M, Mulsant B, Munro C, Newall J, Pawluczyk S, Pelton G, Pollock B, Porsteinsson A, Rabins P, Rein L, Rosenberg P, Shade D, Weinstraub D, Yesavage J, Lyketsos C. Heterogeneity of treatment response to citalopram for patients with Alzheimer's disease with aggression or agitation: The CitAD Randomized Clinical Trial. Am J Psychiatry, 2016; 173: 465-472.
Appointments
Primary Appointment in Psychiatry & Behavioral Sciences