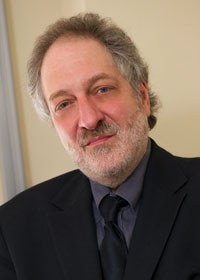 Barry Greenberg, Ph.D.
Research Education Component: Co-Leader
E-mail: bgreen45@jhmi.edu
Publications
Greenberg B, Pettigrew C, Soldan A, Wang J, Wang M-C, Darrow J, Albert M, Moghekar A. CSF Alzheimer's disease biomarkers: Time-varying relationships with MCI symptom onset, and associations with age, sex and ApoE4. Neurology, 2022; 99: e1640-e1650.
Pettigrew C, Soldan A, Wang J, Wang M-C, Greenberg B, Moghekar A. Longitudinal CSF Alzheimer's biomarker changes from middle age to late adulthood. Alzheimer's & Dementia: Diagnosis, Assessment and Disease Monitoring, 2022; 14: e12374.
Montero-Odasso M, Pieruccini-Faria F, Bartha R, Black SE, Finger E, Freedman M, Greenberg BD, Grimes DA, Hegele RA, Hudson C, Kleinstiver PW, Lang AE, Masellis M, McLaughlin PM, Munoz DP, Strother S, Swartz RH, Symons S, Tartaglia MC, Zinman L, Strong MJ. Motor phenotype in neurodegenerative disorders: gait and balance platform study design protocol for the Ontario Neurodegenerative Research Initiative. J Alzheimers Dis. 2017; 59: 707-721.
Greenberg BD, Carrillo MC, Ryan JM, Gold M, Gallagher K, Grundman M, Berman RM, Ashwood T, Siemers ER. Improving Alzheimer's disease phase II clinical trials. Alzheimers Dement. 2013; 9: 39-49.
Appointments
Primary Appointment in Neurology