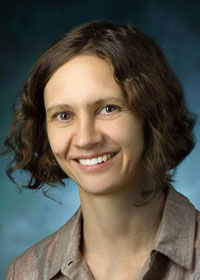 Anja Soldan, Ph.D.
Research Education Component: Co-Investigator
E-mail: asoldan1@jhmi.edu
Publications
Soldan A, Alfini A, Pettigrew C, Faria A, HouX, LimC, LuH, Spira A, ZipunnikovV, AlbertM. Actigraphy-estimated physical activity is associated with functional and structural brain connectivity among older adults, Neurobiology of Aging, 2022;116: 32-40.
Soldan A, Pettigrew C, ZhuY, WangM-C, GottesmanR, DeCarliC, AlbertM, Cognitive reserve and midlife vascular risk: clinical and cognitive outcomes. Annals Clinical and Translational Neurology, 2020; 7: 1307-1317.
Soldan A, Pettigrew C, Fagan A, Schindler S, Moghekar A, Fowler C, Li Q-X, Collins S, Carlsson C, Asthana S, Masters C, Johnson S, Morris J, Albert M, Gross A. ATN profiles among cognitively normal individuals and longitudinal cognitive outcomes. Neurology 2019; 92: e1567-e1579.
Soldan A, Pettigrew C, Cai Q, Wang J, Wang M-C, Moghekar A, Miller M, Albert M. Cognitive reserve and long-term change in cognition in aging and preclinical Alzheimer's disease. Neurobiol Aging 2017: 60: 164-172.
Soldan A, Pettigrew C, Cai Q, Wang M-C, Moghekar A, O'Brien R, Albert M. Hypothetical preclinical AD groups and longitudinal cognitive change. JAMA Neurol 2016; 73: 698-705.
Appointments
Primary Appointment in Neurology