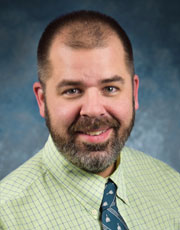 Alden Gross, Ph.D.
Data Management and Statistics Core: Co-Investigator
E-mail: agross14@jhu.edu
Publications
Nichols E, Deal JA, Swenor BK, Abraham AG, Armstrong NM, Bandeen-Roche K, Carlson MC, Griswold M, Lin FR, Mosley TH, Ramulu PY, Reed NS, Sharrett AR, Gross AL. The effect of missing data and imputation on the detection bias in cognitive testing using differential item functioning methods. BMC Med Res Methodol. 2022; 22:81.  
Nichols EL, Cadar D, Lee J, Jones RN, Gross AL. Linear linking for related traits (LLRT): A novel method for the harmonization of cognitive domains with no or few common items. Methods. 2021; 26: S1046.
Gross, AL, Hassenstab, J, Johnson, S, Clark, LR, Resnick, SM, Kitner-Triolo, M, Masters, C, Maruff, P, Morris, JC, Soldan, A, Pettigrew, C, Albert, M. A classification algorithm for predicting progression from normal cognition to mild cognitive impairment across five cohorts: The Preclinical AD Consortium. Alzheimer's and Dementia: Diagnosis, Assessment & Disease Monitoring, 2017; 8: 147-155.
Gross, AL, Power, MC, Albert, MS, Deal, JA, Gottesman, RF, Griswold, M, Wruck, LM, Mosley, TH, Coresh, J, Sharrett, AR, Bandeen-Roche, K. Application of latent variable methods to the study of cognitive decline when tests change over time. Epidemiology, 2015; 26: 878-887.