Abhay Moghekar, M.D.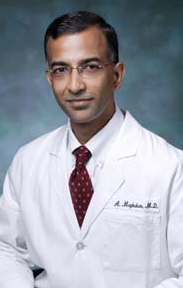 Clinical Core Co-Leader
Biomarker Core: Co-Leader
E-mail: am@jhmi.edu
Dr. Moghekar is an Associate Professor of Neurology. His research interests pertain to biomarkers in cerebrospinal fluid (CSF). He is examining standard Alzheimer's disease CSF biomarkers in a range of subject populations and conducting studies to identify novel CSF biomarkers.
Publications
Greenberg B, Pettigrew C, Soldan A, Wang J, Wang M-C, Darrow J, Albert M, Moghekar A. CSF Alzheimer's disease biomarkers: Time-varying relationships with MCI symptom onset, and associations with age, sex and ApoE4. Neurology, 2022; 99: e1640-e1650.
Sathe G, Albert M, Darrow J, Saito A, Troncoso J, Pandey A, Moghekar A. Quantitative proteomic analysis of the frontal cortex in Alzheimer's disease. J Neurochem. 2021;156:988-1002.
Sathe G, Na C, Renuse S, Madugundu A, Albert M, Moghekar A, Pandey A. Phosphotyrosine profiling of human cerebrospinal fluid. Clinical Proteomics 2018, 15:29.
Sathe G, Na C, Santosh R, Magunundu A, Albert M, Moghekar A, Pandey A. Quantitative proteomic profiling of cerebrospinal fluid to identify candidate biomarkers for Alzheimer's disease. Proteomics Clinical Applications 2018 [epub ahead of print]
Moghekar A, Li S, Lu Y, Li M, Wang MC, Albert M, O'Brien R. CSF biomarker changes precede symptom onset of mild cognitive impairment. Neurology.2013; 81: 1753-1758.
Appointments
Primary Appointment in Neurology